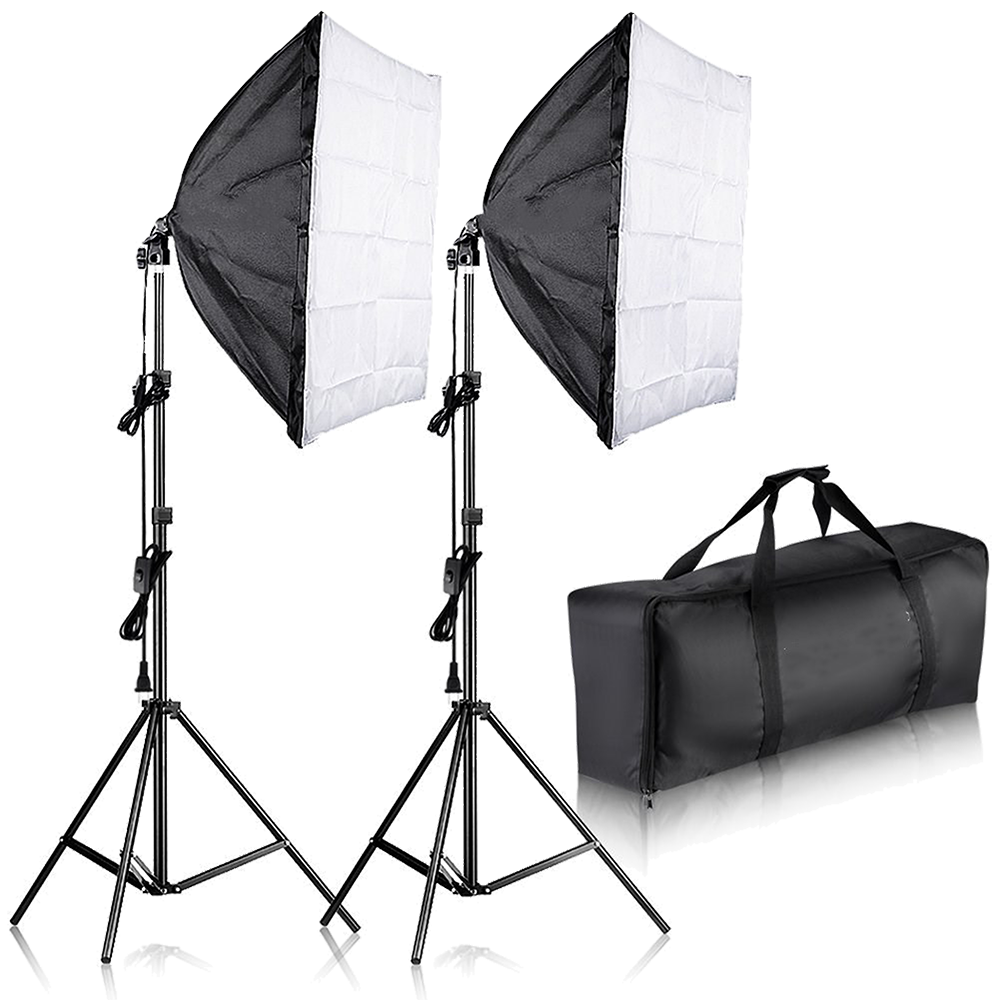 he kit includes

product name

Quantity

product detail

size: 79"(7 Feet)/200cm;Solid safety 3 legs stages,capable for stable,heavy duty work.And use quick single action locks,providing fast precision height adjustment,Aluminum alloy material, heavier than others, special surface treatment, smooth and no spots.Height adjustment is from 80 to 200 (cm)

Single Head Light Holder

2

The single head light holder allows you to attach a bulb to a light stand and add an umbrella.

45W day-light studio light bulbs:equals to 200W regular incandescent light bulb output.5500K fluorescent spiral bulb generates a close match to natural daylight and a crisper view of the items being illuminated.It is best for photography lighting.

carry Bag

1

Special material, waterproof and wear-resistant;great for transporting light stands,umbrellas,and other accessories.

Packaging Information

Package size: 84 x 44 x 19 (cm); Net weight:10KG , Gross weight:11kg
Softbox light kit perfomance
The softbox light kit included
: 60x60cm Softbox , 2pcs; 85W 5500K E27 Light Bulb, 2pcs; 190cm Light Stand, 2pcs; Carrying Bag, 1pcs.This professional softbox light kit is suitable for advertising products, photographic art, technical photography, and photographic reproduction.
Softbox
: The softbox has smooth light and a wide range of illumination, which can eliminate shadows and make the light more suitable for photography lighting. Using the E27 socket, you can directly connect a bulb or other type of lamp to provide light. The soft box can diffuse light and provide the soft light beam to eliminate shadows and take perfect pictures.
Energy Efficient Bulbs
: 2 x 85W 110V-50Hz 5400K daylight CFL lighting bulbs. The total output is equivalent to an ordinary incandescent bulb of 800W. Bulbs work at low temperatures, so they won't be as hot as the more common bulb choices.
Rotatable Head & Adjustable Stand
: Made of aluminum alloy, durable and foldable, easy to carry and work, and provide the required strength for heavy work. It has a 1/4 inch standard threaded tip and uses a quick single-action lock to provide quick and accurate height adjustment.
Suitable for Various Photography
: The soft box is suitable for photographic art, meeting different needs of photographic lighting, live broadcast, video fill light, etc., and can be used in advertising products, industrial technology photography, portrait and product photography, photographic reproduction, etc.
High Quality Material
: Softbox light reflector made of professional particulate silver film reflective fabric with nylon white screen soften the hard light and eliminate object shadows. One-piece opening and folding easy to use and store.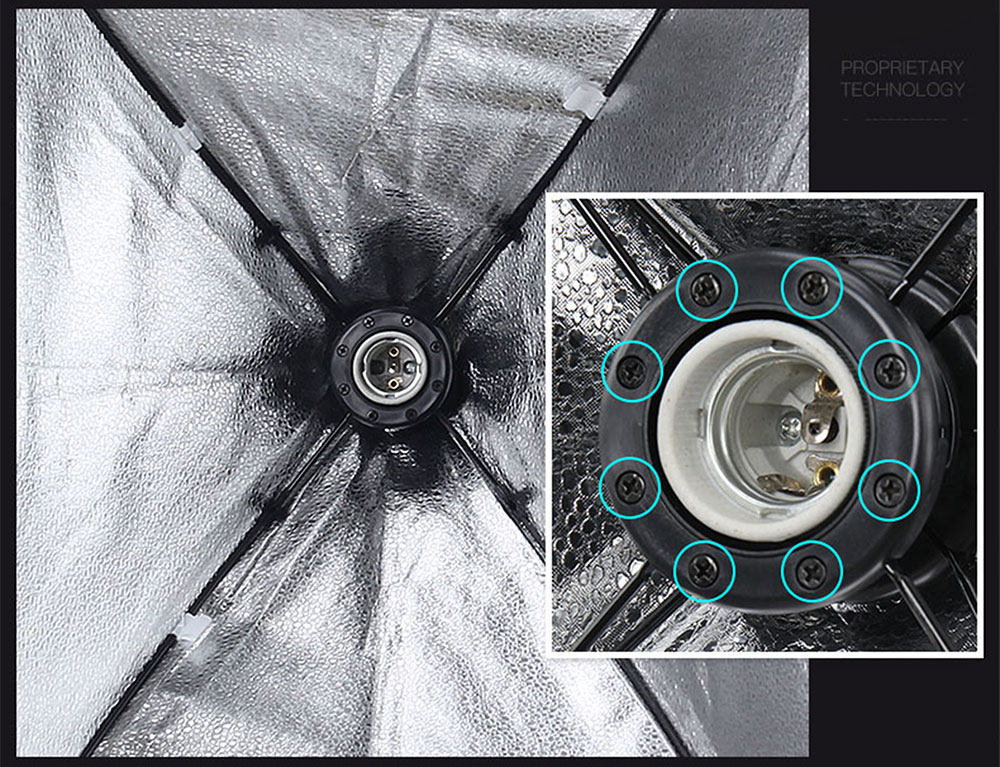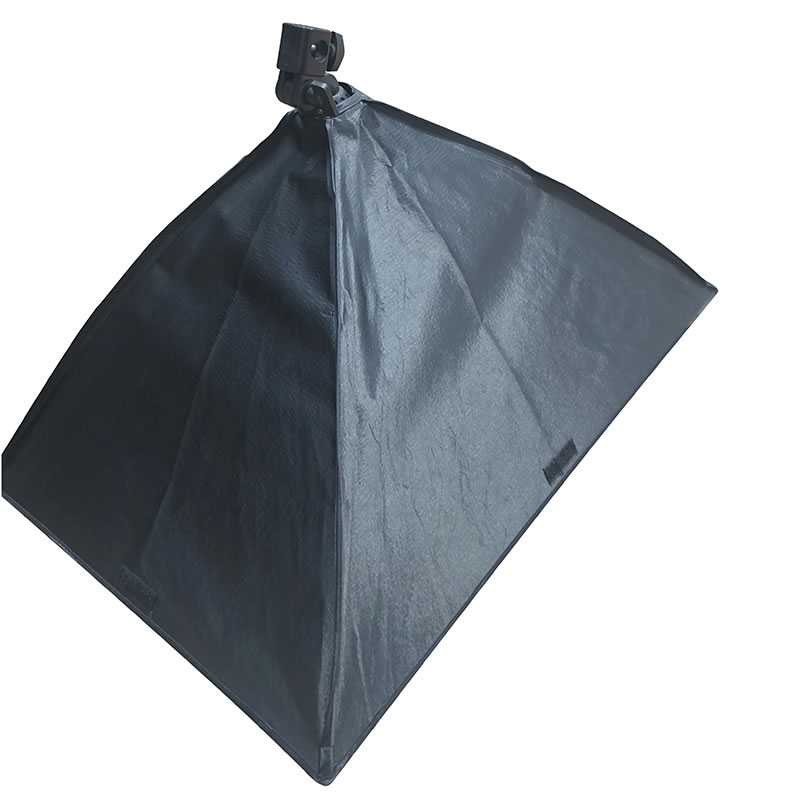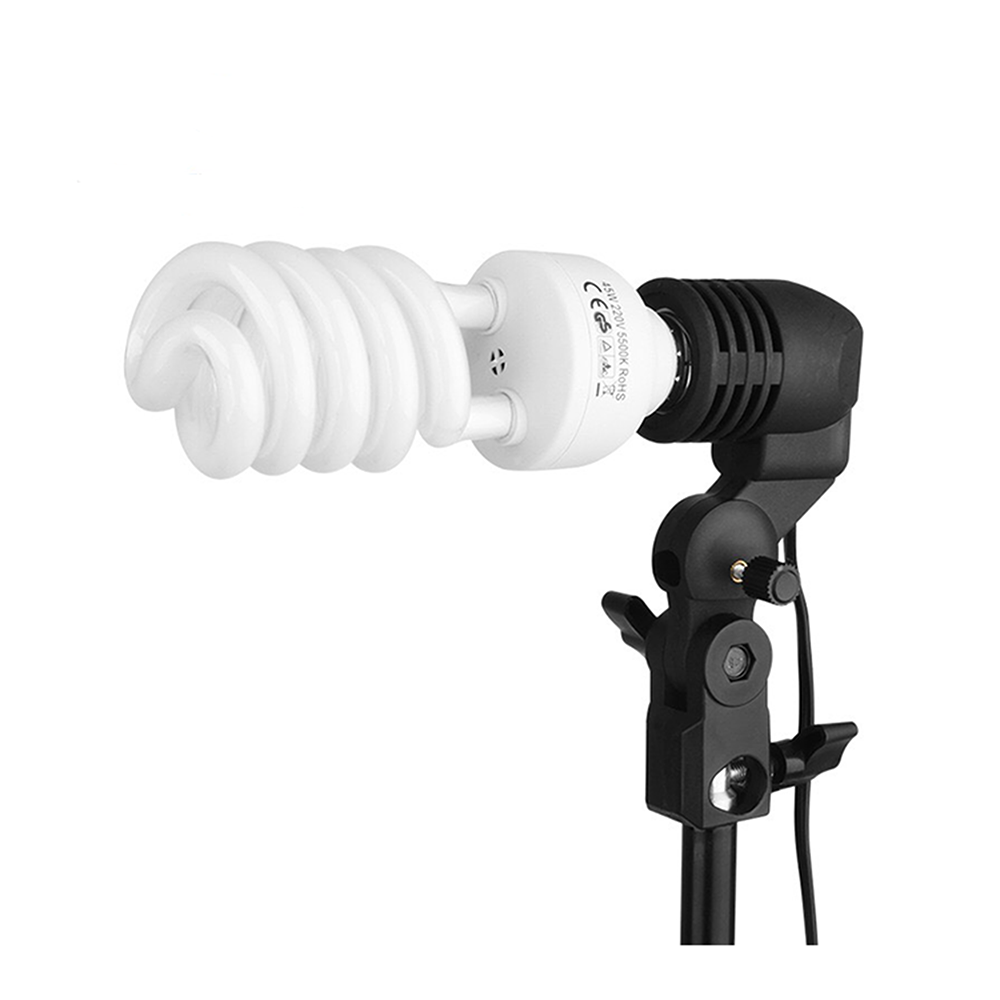 ※About us
We are a professional manufacturer of photographic equipment. We have five production lines. Main products: photographic lights, led ring lights, led studio lights,led video light,softbox, soft boxes, background ,backdrop, green screen ,light stand ,tripod,photography accessories, photography equipment.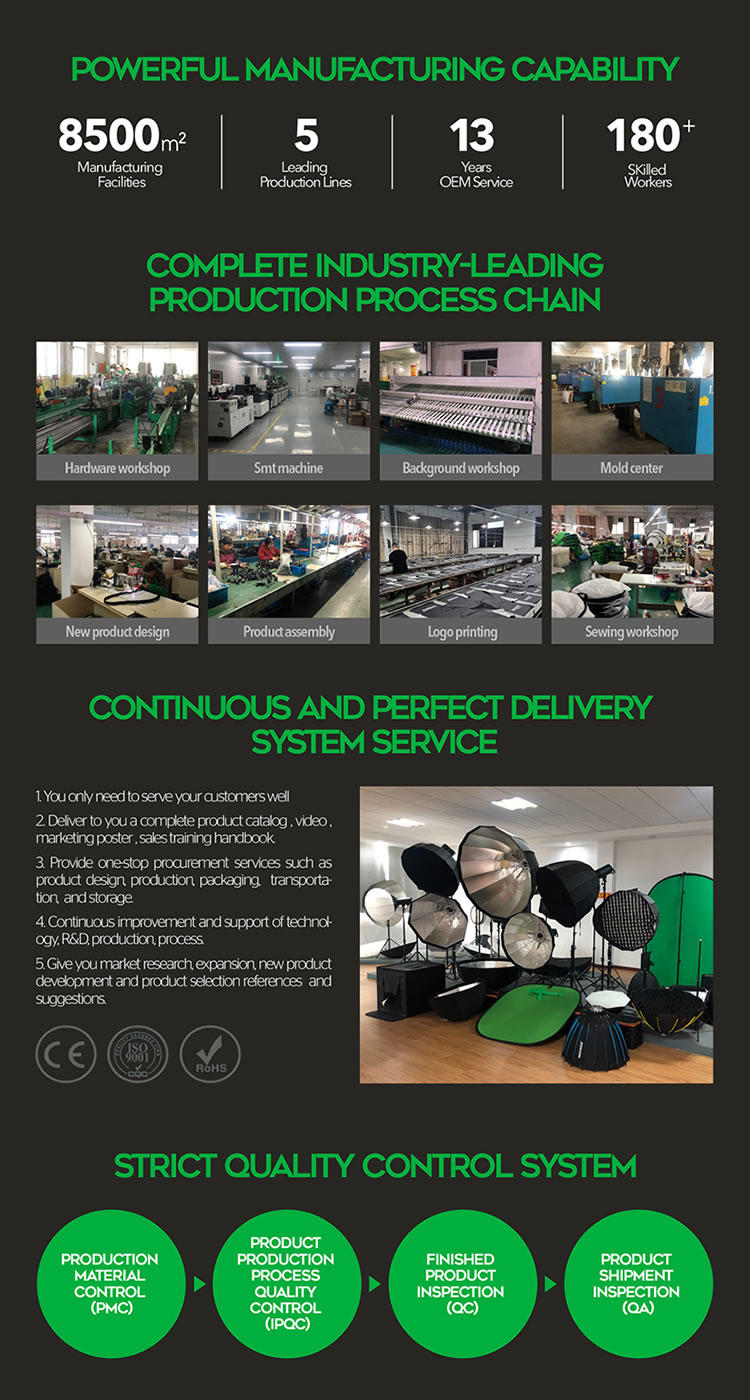 ※How do we ensure our quality ?
1. In the field of photography, well-known brands are our cooperative customers. We have provided them with oem services for 13 years. With their help, we have continuously optimized our quality control system.


2. We are confident to provide customers with top quality products as we have solid flow of Production Material Control (PMC),In-Process Quality Control (IPQC), Finished Product Quality Control (QC) and Delivery Quality Assurance (QA). To provide you with an extra level of protection, we check our items piece by piece prior to shipment.


3. Our products have passed ISO 9001,CE,ROSH, CCC, ROSH and other certification .


※What make our product difference from other factory?
1.Our clients benefit from lower manufacturing costs and time-to-market volume production through over 180 highly qualified staffs and the 8500 square meters workshop, including a mold development center, a metal and plastic injection center,a hardware processing center, 5 product assembling centers , Printing workshop.

2. Thanks to more than 15 dedicated engineers with strong engineering capability and extensive experience in system R & D, we keep developing new products every year to keep up to date with the market. we pride ourselves on our ability to meet our customers' needs. If one of our standard products doesn't meet your requirements, we can custom-design a product for you.

3.We have a complete process chain in the industry, so we can provide you with better customized services


4.Normally MOQ 100pcs, but we also accept small sample order for quality clients.