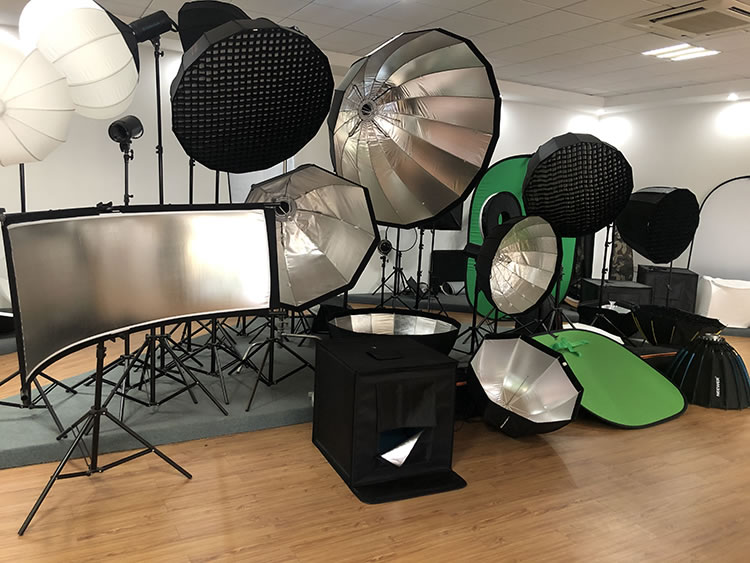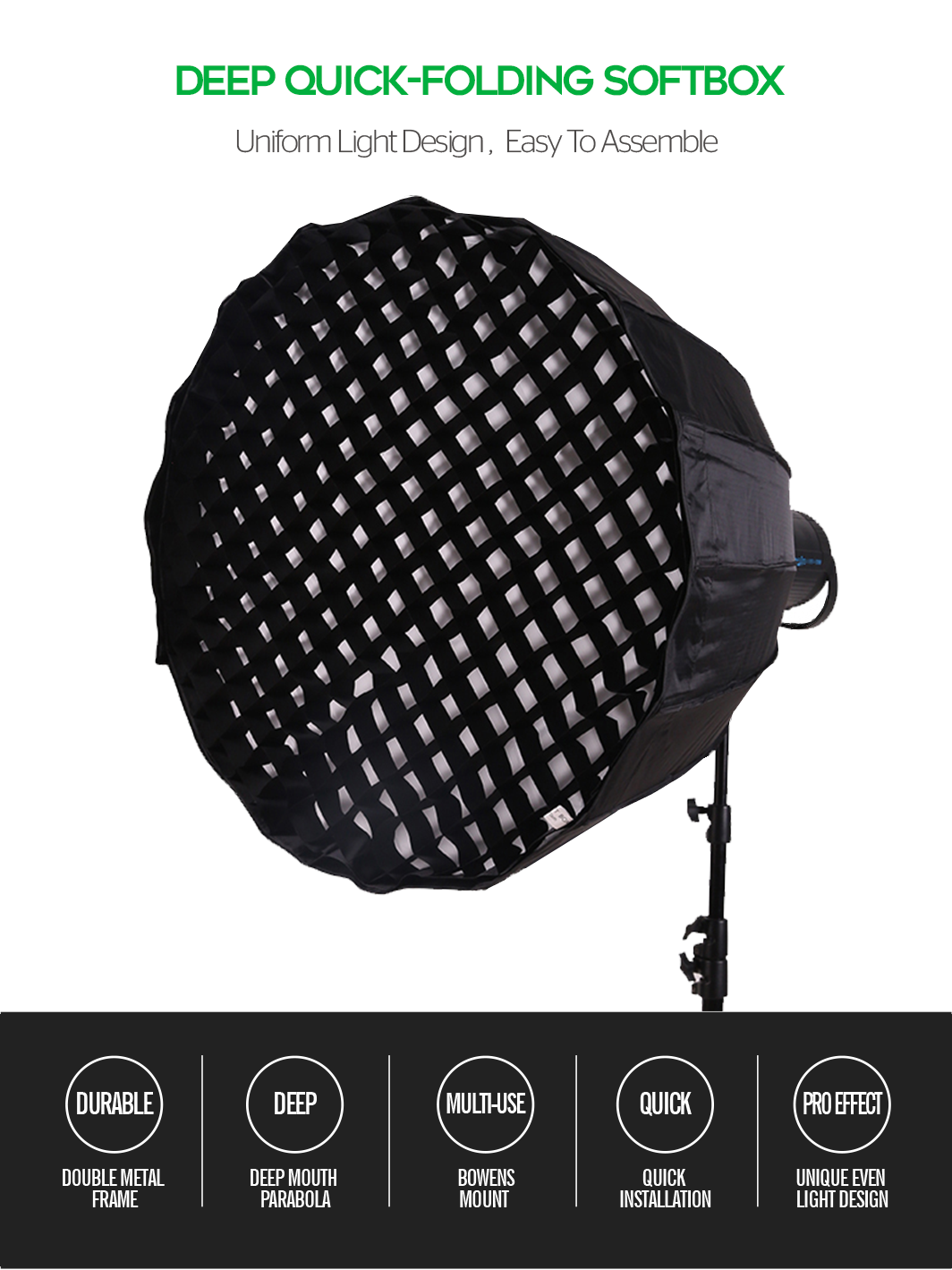 The Quick-Open Deep Parabolic Softbox is Designed as an umbrella; Easy to use with no hassles in opening or closing, features integrated locking rods that quickly lift and snap into place, so you're ready to shoot in a fraction of the time it takes to set up a conventional softbox.
This softbox is widely used with a light stand which provides a great support and with a strobe light for producing even and bright lights during portrait video shooting. Ideal for portrait, product, and fashion photography and more.
Come with bowens mount speedring adapter for most brands of strobe light; Support one to three layer diffuser (Inner Baffle, Front Diffuser and Grid) for providing various lighting effect;
It comes with reflective silver interior for making it easy to achieve magnificent specular highlights, bring out sharp details.
Removable inner baffle and front diffuser allow you to soften the light while lowering exposure by 2.1 stops; Fabric grid included to tighten beam angle and help control unwanted light.
Removable internal diffuser and external diffuser allow you to soften the light while lowering exposure by 2.1 stop; different levels softness can be controlled.
Gridded outer diffuser shield added is used to control light spill and tighten the total coverage area; this can be particularly helpful in tight shooting environments.
softbox with Bowens Mount is very quick to install and detach, even a young lady can do it about 10 seconds.It is a soft box when being spread and like an umbrella when being folded, easy to use.
Stainless steel bracket supports the softbox with strong toughness and high strength, ensuring a long time working without deformation; More dramatic contrast and tactile feel; Reversible Deflector element assures no center hot spot
It can be better storage and carry with a carrying bag, and also be assembled and disassembled easily.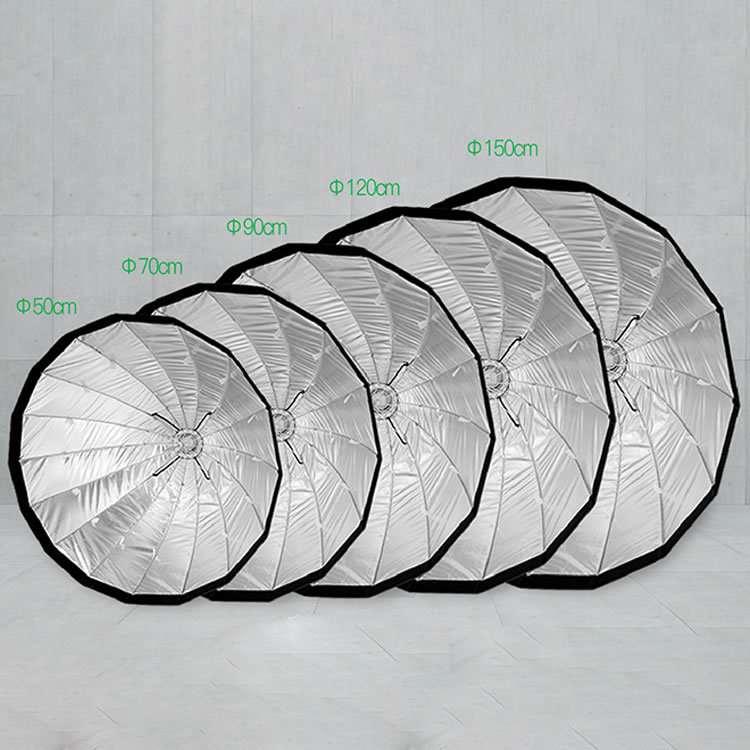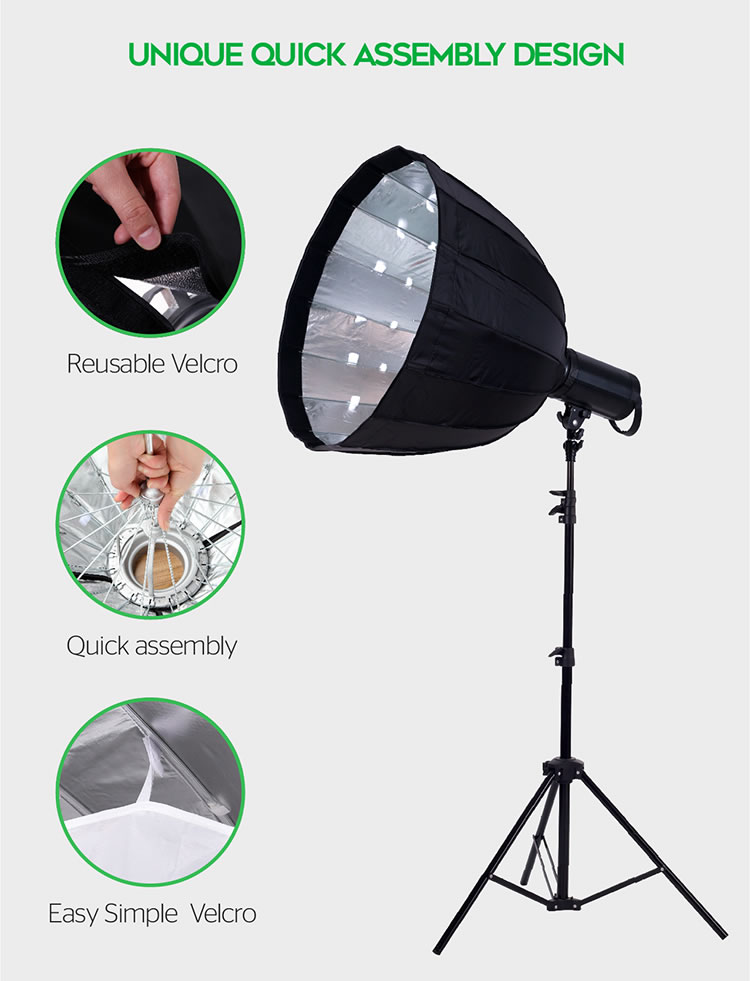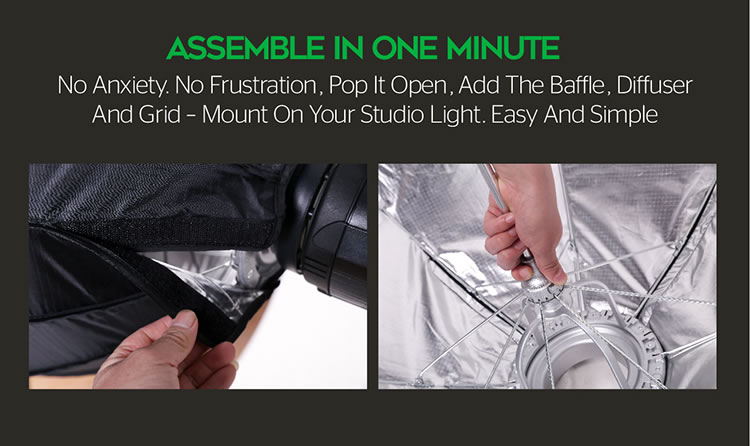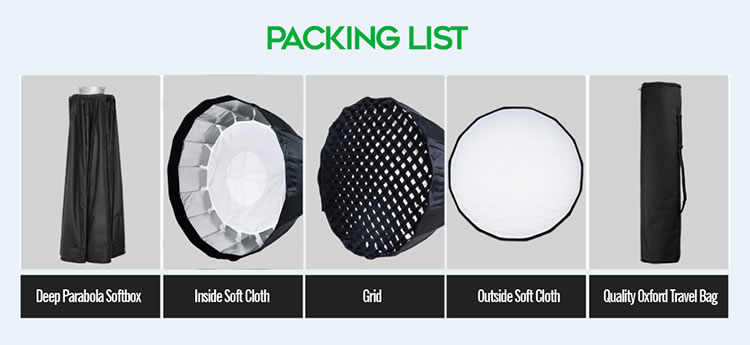 1. We are a professional manufacturer of photographic equipment with 13 years of OEM service experience.

2. For the past years, we have been partners of many well-known brands in the industry,Our quality and on timedelivery have won the trust of customers.

3. Our products have passed ISO 9001,CE,ROSH, CCC, ROSH,KUCAS and other certification .

4. Powerful R&D Capability, provide you with OEM and odm services, look forward to becoming a member of your brand building.





Powerful R&D Capability


1. We keep developing new products every year to keep up with market trends .

2. Product appearance, performance, parameters, logo,packaging, software, APP can all be customized!

3. If one of our standard products doesn't meet your requirements, we can custom-design a product for you.

POWERFUL MANUFACTURING CAPABILITY
1. 7500㎡ Manufacturing Facilities
2. 220+ SKilled Workers
3. 30 R&D and production experience
5. Leading Production Lines


After-sales policy worry-free purchasement and service
1. Provide you with OEM and odm services, enhance your core competitiveness in the market .
2. 3-year warranty, and we are glad to help you solve quality problems .
3. We provide manuals and posters of products for you .
4. We focus on the continuous upgrade of products and technologies ,to give customers the better shopping experience



Strict Quality Control System
We are confident to provide customers with top quality products as we have solid flow of Production Material Control (PMC), In-Process Quality Control (IPQC), Finished Product Quality Control (QC) and Delivery Quality Assurance (QA). To provide you with an extra level of protection, we check our items piece by piece prior to shipment. Our products have passed ETL, DLC, CCC, ROSH, CE ,EPA and other certification .