Main Features:
The parabolic beauty dish is commonly used in advertisements, movies, portrait photography, etc. A key features of the new softbox is the quick release frame without any time-consuming task of assembling. The beauty dish comes with its own speed ring of Bowens Mount, and it provides the options of the internal and external removable diffusion panels, easily and quickly attached with velcro.
1. Portable Quick Folding Softbox with Diffuser Speedbox Collapsible Silver Beauty Dish with Bowen Mount.

2. Quick Folding Portable Beauty Dish.

3. Soft box 16 Rods Quick Folding Portable Beauty Dish Umbrella Softbox with Bowens Mount for Photography Photo.

4. The parabolic beauty dish is commonly used in advertisements, movies, portrait photography, etc.

Item

Rigid Portable Collapsible Quick Folding Softbox With Diffuser Grid and Carrying Bag Bowens Mount soft box

Sizes

65CM , 0EM ODM,85 105 optional, can be customized

Type

deep Portable Collapsible Quick Folding Soft box Umbrella Softbox

Accessories

internal diffuser and external diffuser,honeycomb grid ,carrying bag

Frame

16pcs Stainless steel bracket , Aluminum alloy bowen mount

1. 65cm softbox, single packing box: 20*20*58 CM , net weight:3kg, carton size :65*43*60 CM , 6PCS/ carton

2. 85cm softbox single packing box : 20*20*70 CM , net weight:3.5kg, carton size:65*43*72 CM , 6PCS/ carton

3. 105 softbox single packing box: 20*20*85 CM , net weight:4kg, carton size:65*43*87CM, 6PCS/ carton

OEM

color brands, size ,style ,packages all accepted OEM

Material

nylon material, Aluminum shaft, High quality reflective material ,Imported quality, multiple choices, create different
photographic effects

Color

Black / Silver (out/inner) ,color can be customized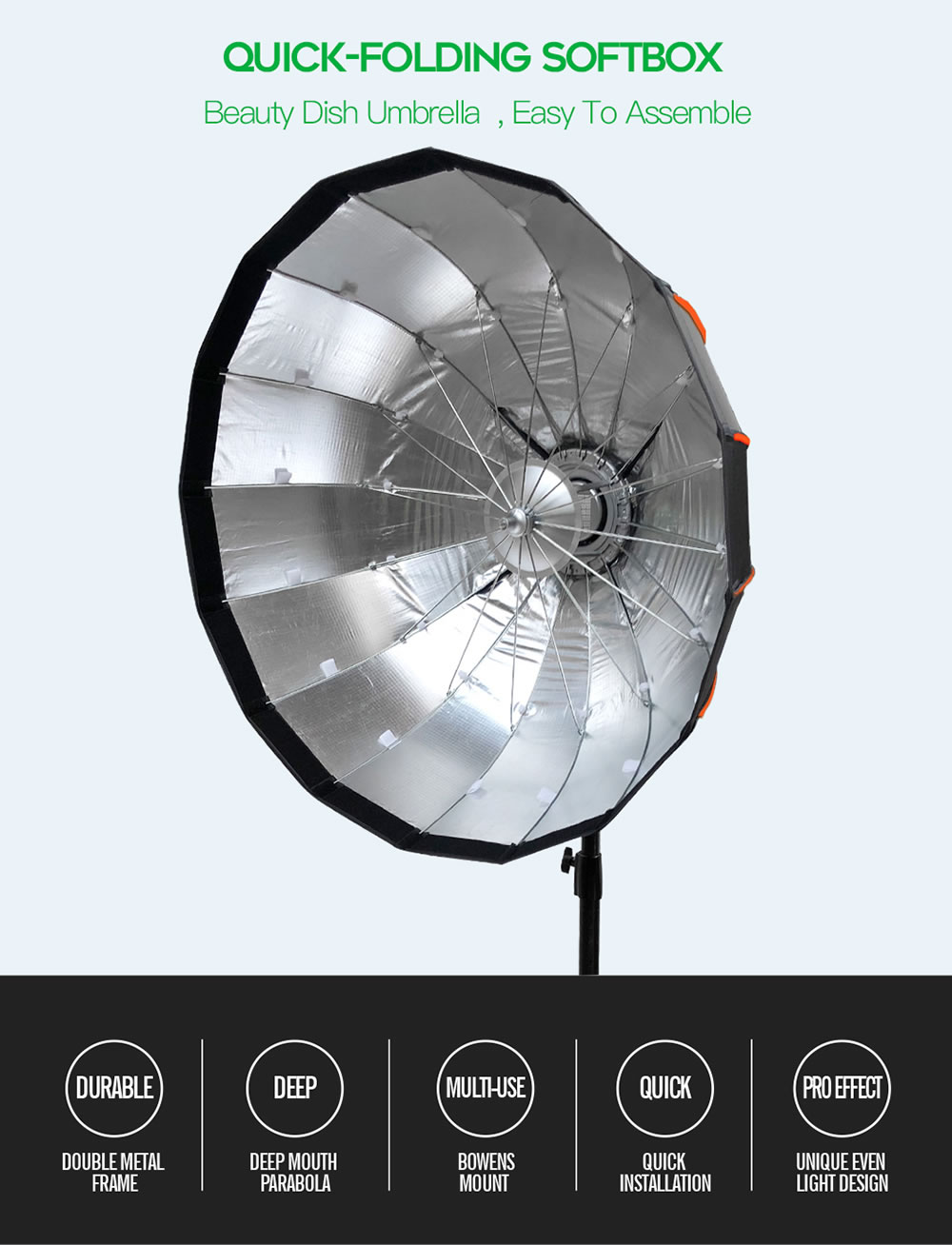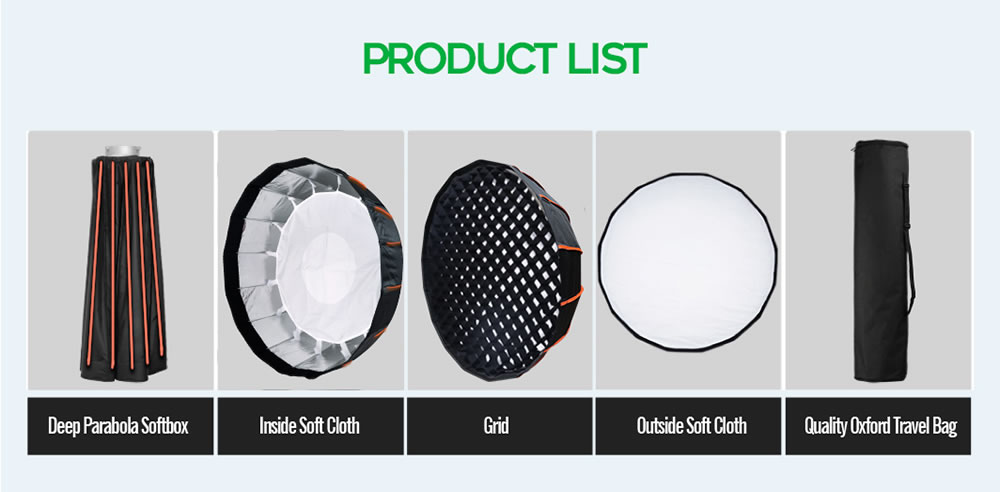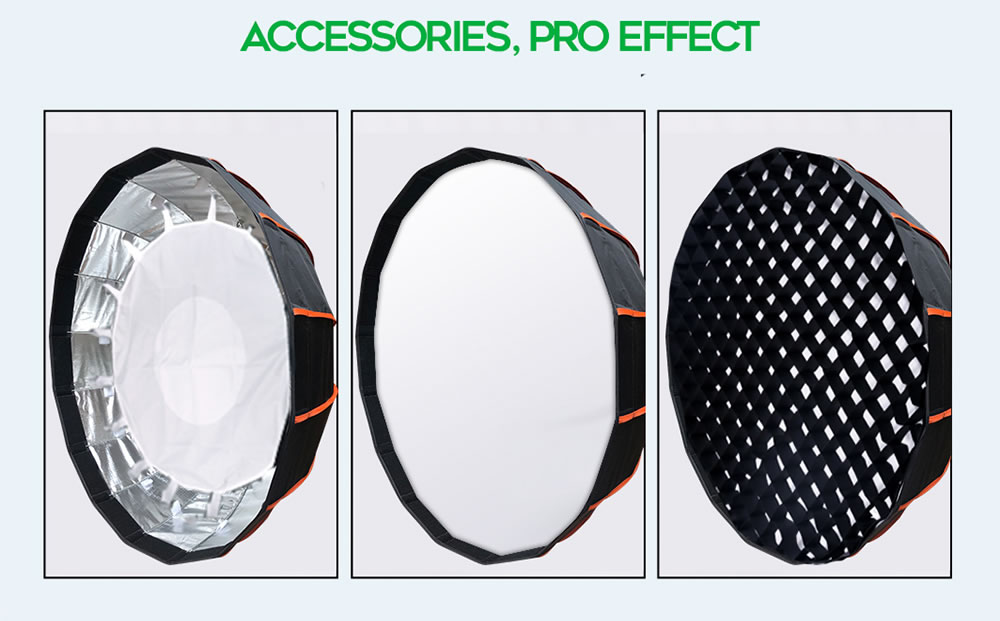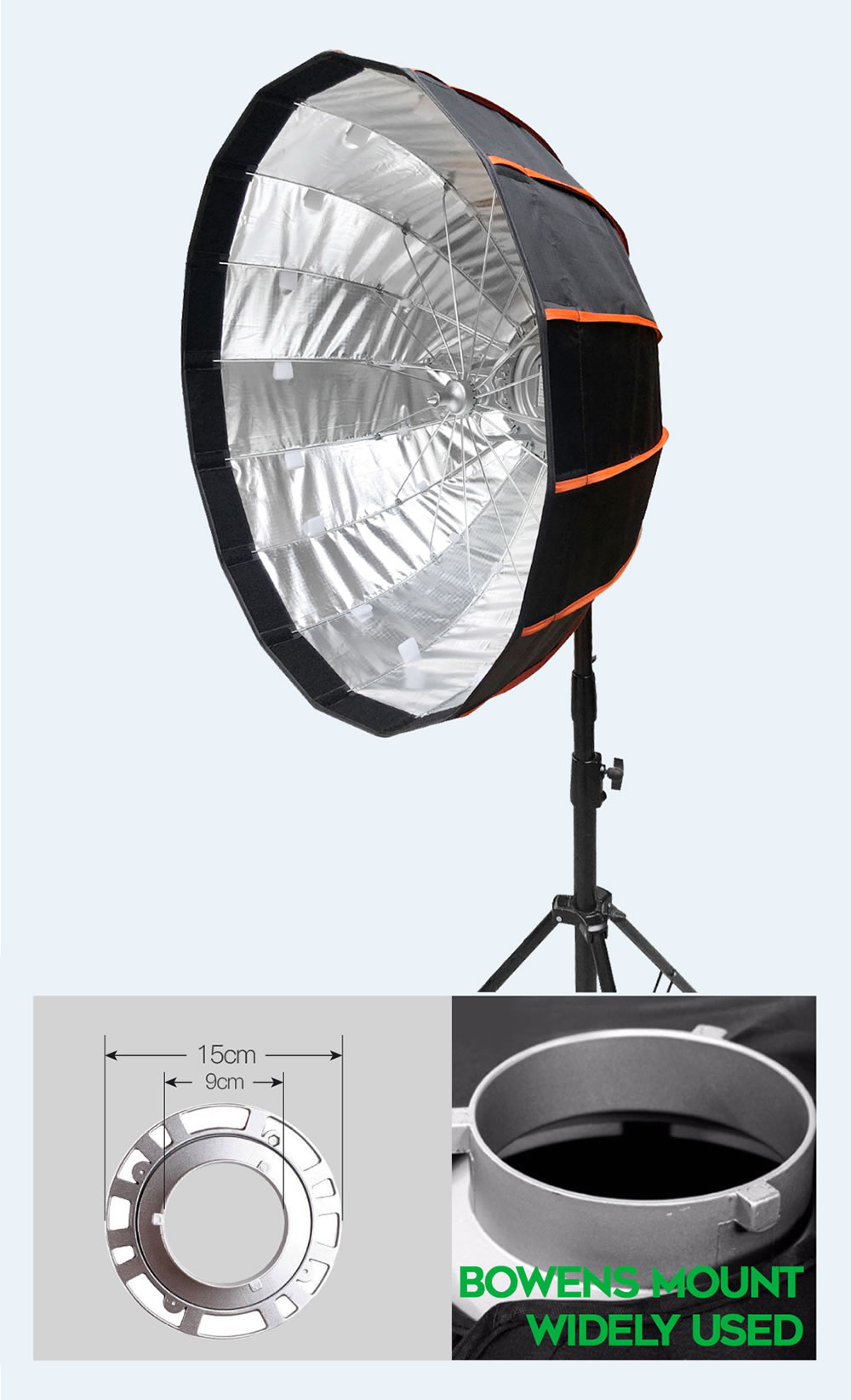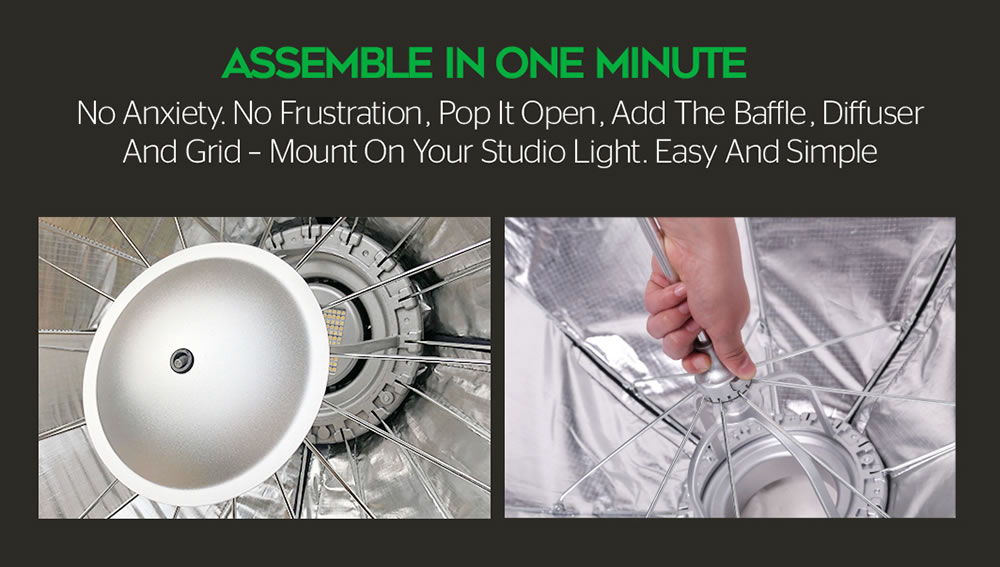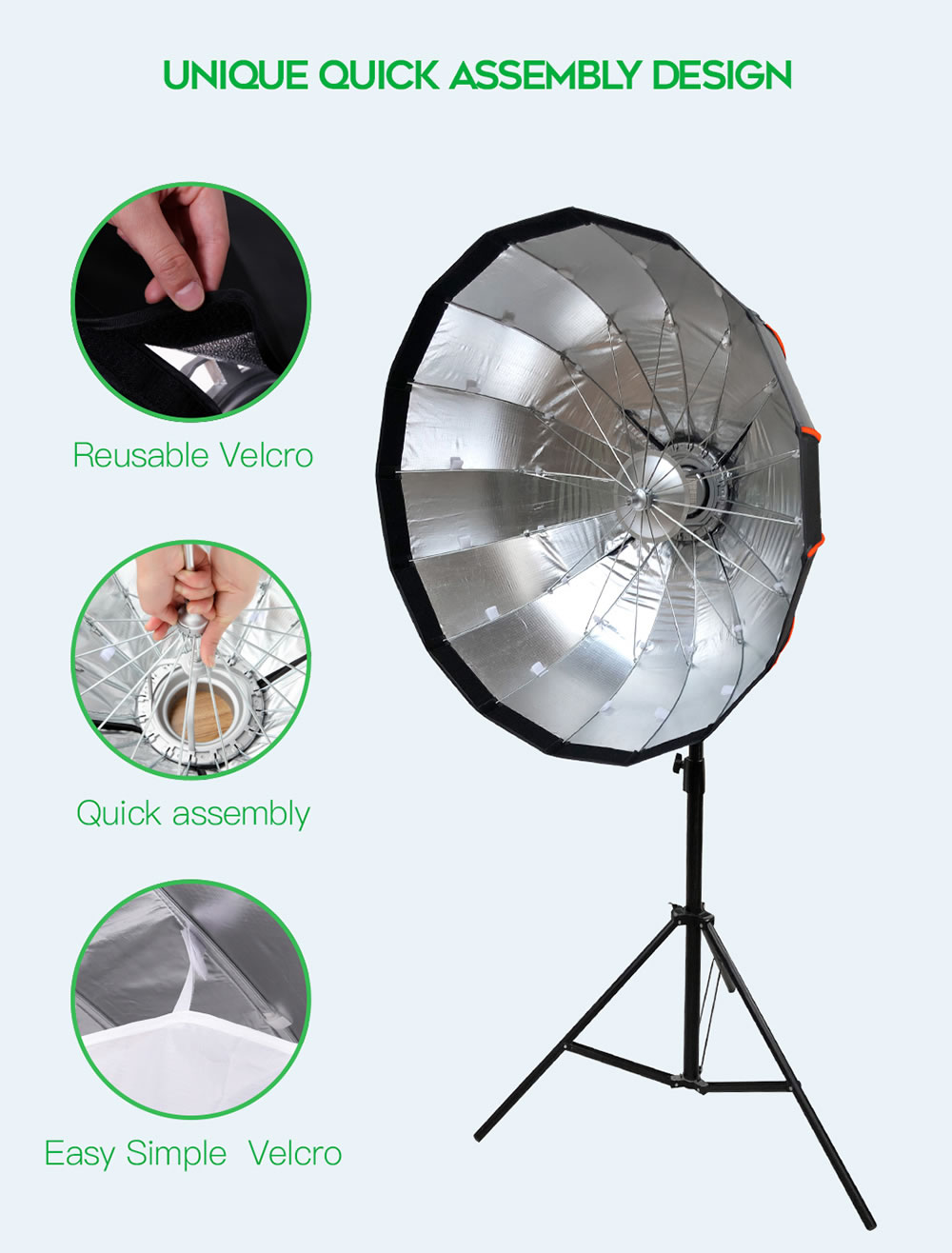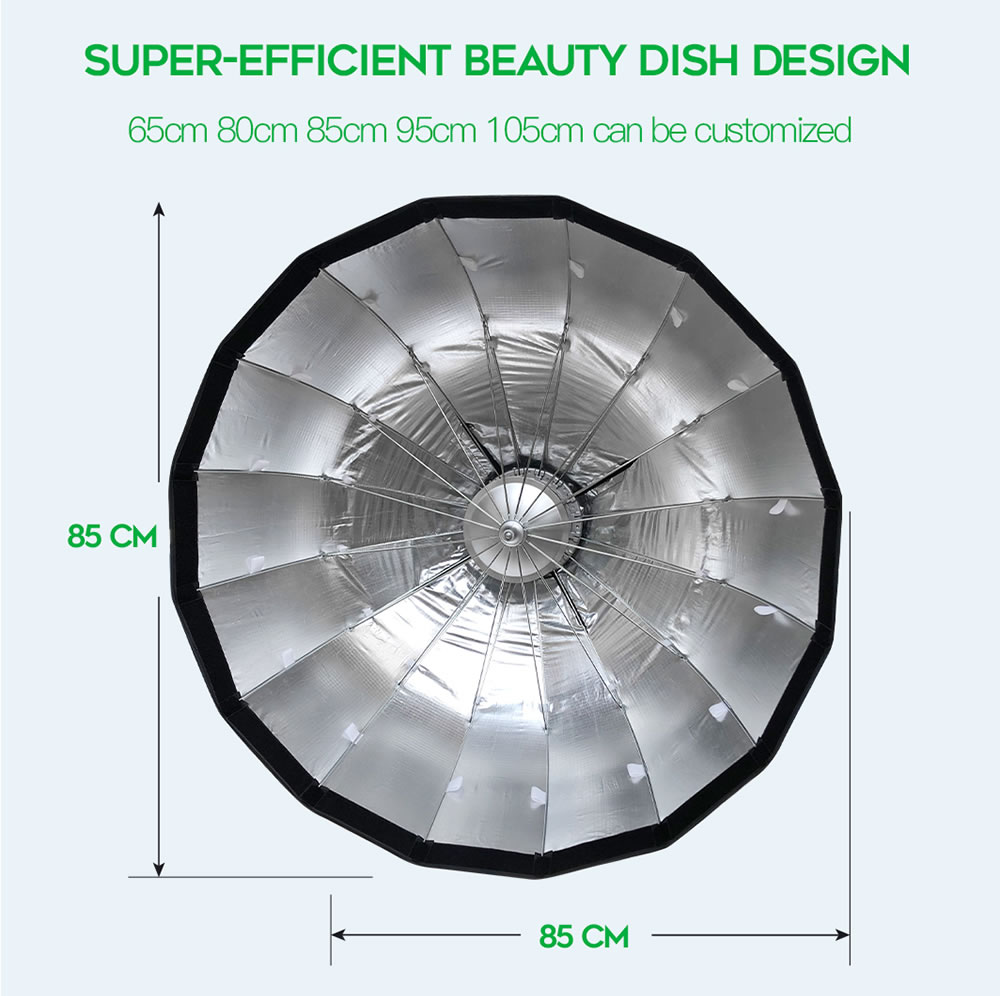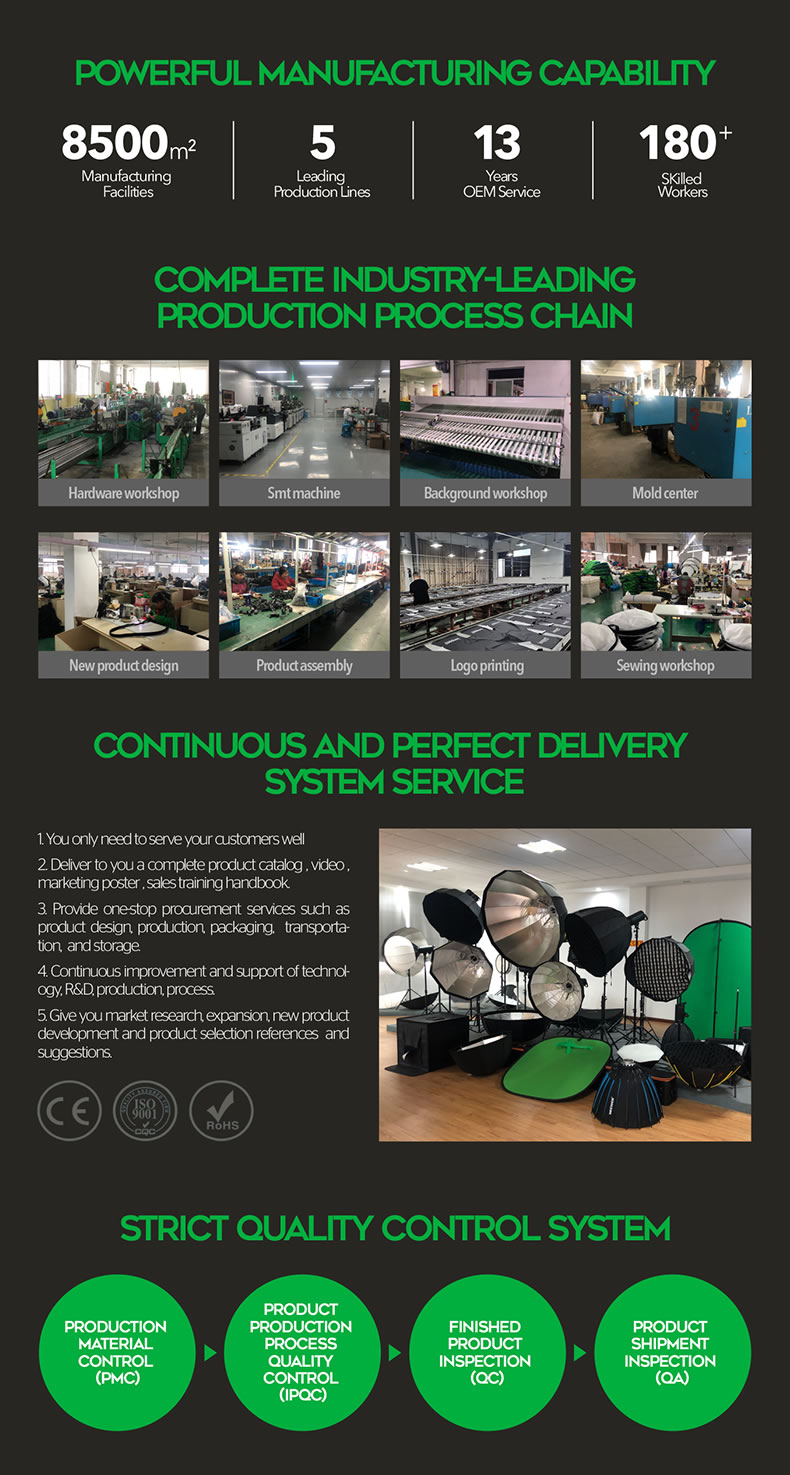 ※About us

We are professional manufacturer of photographic equipment. We have five production lines. Main products: photographic lights, led ring lights, led studio lights,led video light,softbox, soft boxes, microphone ,background ,backdrop, green screen ,light stand ,tripod,vlog kit ,photography accessories, photography equipment.

※How do we ensure our quality ?
1. In the field of photography, well-known brands are our cooperative customers. We have provided them with oem services for 15 years. With their help, we have continuously optimized our quality control system.

2. We are confident to provide customers with top quality products as we have solid flow of Production Material Control (PMC),In-Process Quality Control (IPQC), Finished Product Quality Control (QC) and Delivery Quality Assurance (QA). To provide you with an extra level of protection, we check our items piece by piece prior to shipment.

3. Our products have passed ISO 9001,CE,ROSH, CCC, ROSH and other certification .

※What make our product difference from other factory?
1.Our clients benefit from lower manufacturing costs and time-to-market volume production through over 120 highly qualified staffs and the 7500 square meters workshop, including a mold development center, a metal and plastic injection center,a hardware processing center, softbox center,5 product assembling centers , Printing workshop.
2. Thanks to more than 15 dedicated engineers with strong engineering capability and extensive experience in system R & D, we keep developing new products every year to keep up to date with the market. we pride ourselves on our ability to meet our customers' needs. If one of our standard products doesn't meet your requirements, we can custom-design a product for you.
3.We have a complete process chain in the industry, so we can provide you with better customized services
4.Normally MOQ 100pcs, but we also accept small sample order for quality clients.